Barry's Emacs
Barry's Emacs

is easy to use and accessible, yet powerful, text editor.
You can start using Barry's Emacs as a notepad replacement. Then, at your own speed use more advanced features.
There are pre-built kits available for Windows, macOS and Linux systems, Fedora, Centos 8 and 7 and Centos 6.
It's user interface uses the familiar Windows style user interface, key bindings, menus, toolbar and dialogs. Barry's Emacs is integrated with the Windows explorer.
News
3-Apr-2020 V8.6.2 release with kits for Windows 7 64 bit and later, Mac OS X 64 bit and Fedora 30, 31 and 32, Centos 8, 7 and 6.
Fix ere-quote to quote "?"
Fix and improve dired - works for unix and macOS.
Fix for memory leak in Python UI code.
Fix macOS bemacs-cli and bemacs_client needed fixes to use the Python version from within the /Applications/Barry's Emacs app.
Improve p4-diff and p4-change-mode
Fix for dired on macOS needed to find files correctly
html-mode now colours <!- html comments -->
document maximum-file-read-size
Features
Full HTML documentation
Windows style user interface
Edit multiple files
Multiple buffers
Syntax colouring
Regular expression searching
Fully programmable
Integrated Python extension language
Available for Windows, Mac OS and Linux.
Dark mode support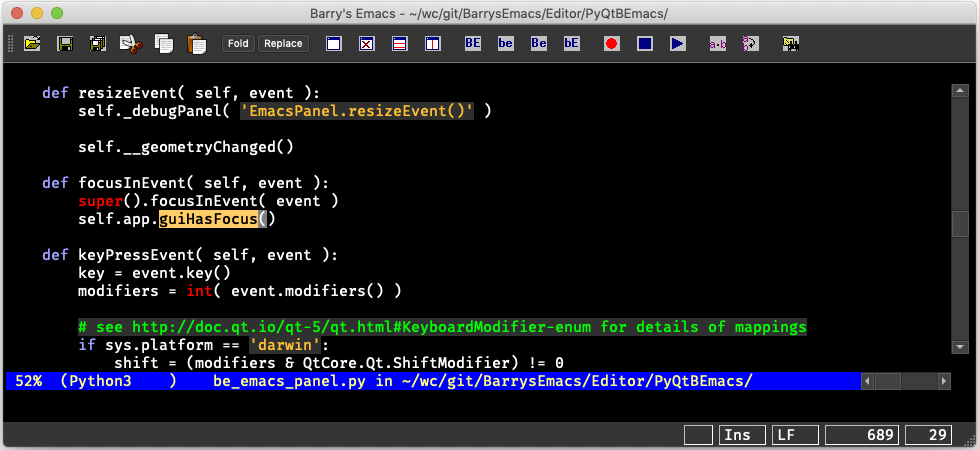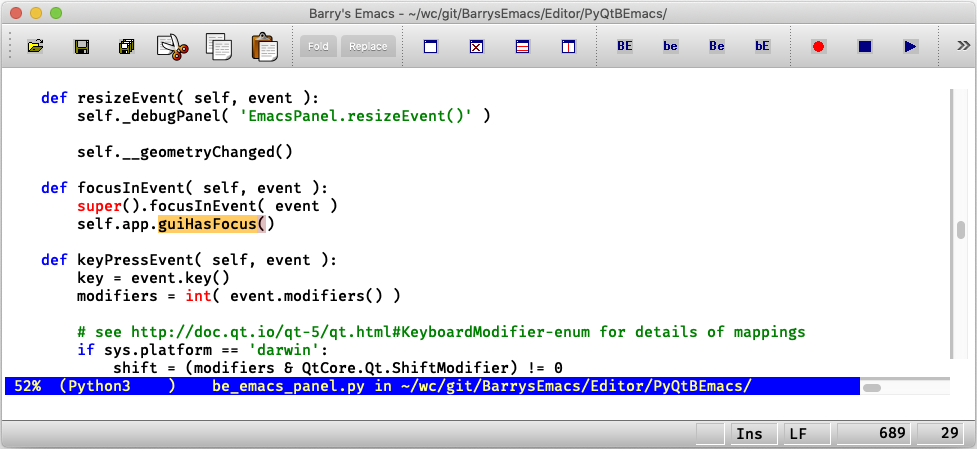 Downloads
V8.6 is now the recommended version of Barry's Emacs.
Download information for Barry's Emacs V8 and for the older Barry's Emacs V7.2.
The source code is hosted on GitHub at https://github.com/barry-scott/BarrysEmacs.
| Operating System | Download instructions |
| --- | --- |
| macOS 64 bit | Use V8.6 |
| Fedora Linux | Use V8.6 |
| Centos 7 Linux | Use V8.6 |
| Centos 6 Linux | Use V8.6 |
| Windows 7, 8, 8.1 and 10 64 bit | Use V8.6 |
| Windows XP, 2000, NT 4.0 | Use the legacy V7.2 |
Barry's Emacs FAQ
Check the FAQ for frequently asked questions.
Discussion group
Barry's Emacs is discussed on groups.io barrys-emacs.